Spring Seed Availability 2022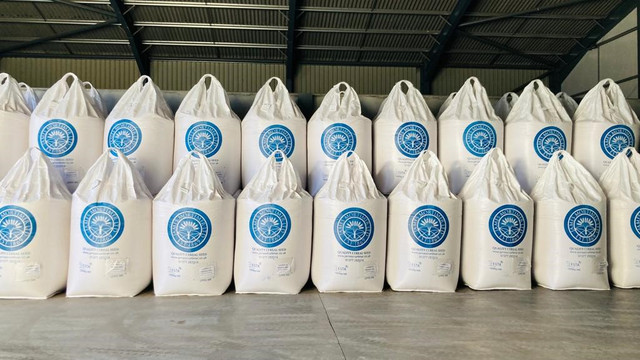 The spring season is now underway and we are busy dressing seed for the spring drilling season over the next few months. The new AHDB recommended list for the 2022/23 season was released in December 2021 with lots of additions for growers to consider before selecting varieties for next year.
With regard to variety choice for this spring, there are limited new options for this season as C2 seed of many of the new varieties will not be available until spring 2023. For malting barley growers, our advice is not to change to any new varieties for this season until we know if the varieties get MBC approval.
SY Tungsten (RGT Planet x Ovation)
SY Tungsten was a new malting variety from Syngenta last year which now has provisional approval for both brewing and distilling - it is supported by Muntons for harvest 2022.
High yields, good specific weight and an untreated yield of 90%.
Similar maturity to Laureate.
Laureate (Sanette x Concerto)
Laureate remains the most popular spring malting barley variety with strong demand from maltsters and reliable on farm performance with full MBC approval.
We expect Laureate to be the biggest spring barley variety again next season.
LG Diablo (Sanette x Overture)
LG Diablo is the highest yielding variety with full MBC approval for brewing and malt distilling.
High yields, strong agronomics and good demand from maltsters will keep the LG Diablo area close to that of Laureate.
Consistent performance, particularly in the North and East regions.
RGT Planet (Tamtam x Concerto)
Whilst been on the market now since 2015, RGT Planet is a great farmers barley producing a bold grain ideal for feeding with good straw quality, which makes it a very popular choice on farm for its reliable performance.
It is slightly earlier to mature than other varieties which appeals to many growers.
Potential for a malting premium into the export market for brewing.
SY Splendor NEW (Octavia x Dioptric)
SY Splendor was added to the AHDB Recommended List in 2020 for the feed and brewing market (it has provisional MBC approval for brewing).
Excellent specific weight, stiff straw and a brackling resistance score of 9.
Consistent yields across all regions and soil types. For those that have been growing RGT Planet for the last few years, SY Splendor might be worth a try this spring as a comparison.
KWS Irina (Conchita x Quench)
Whilst KWS Irina has been around for several years, it is still a very popular spring barley choice, particular on stock farms due to its good quality straw, high bushel weight and brackling resistance.
Small demand for malting.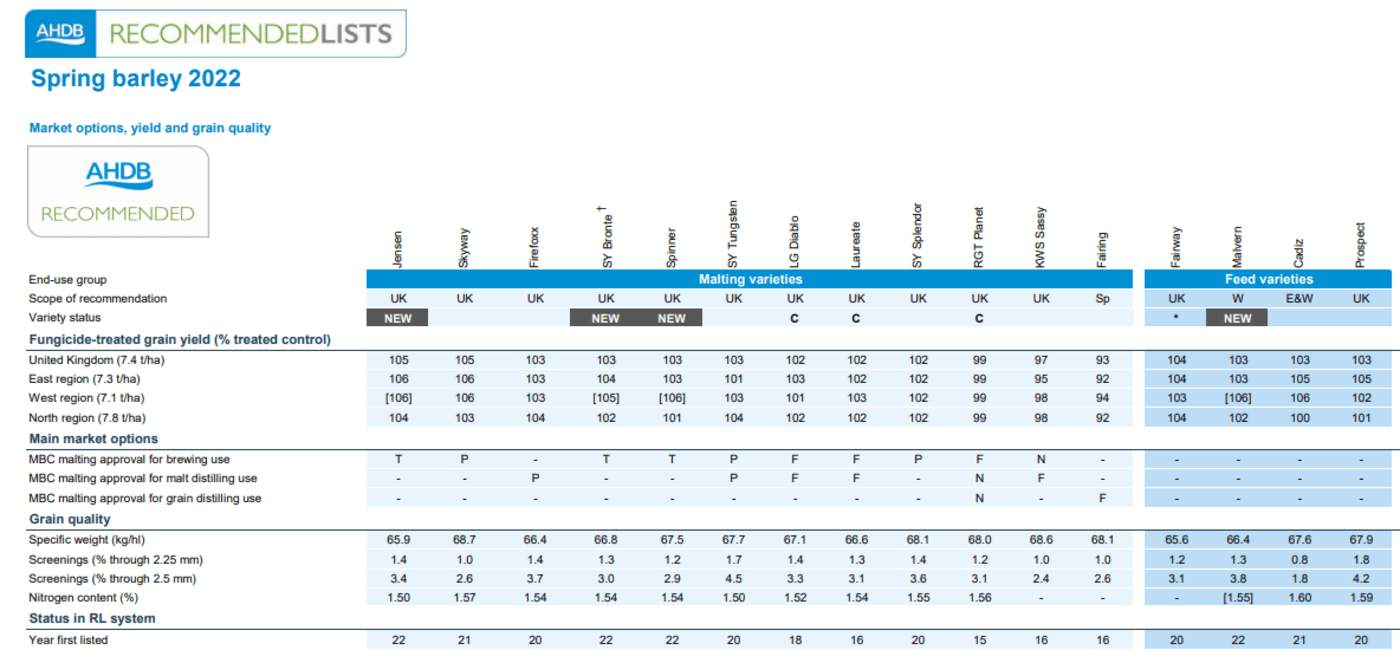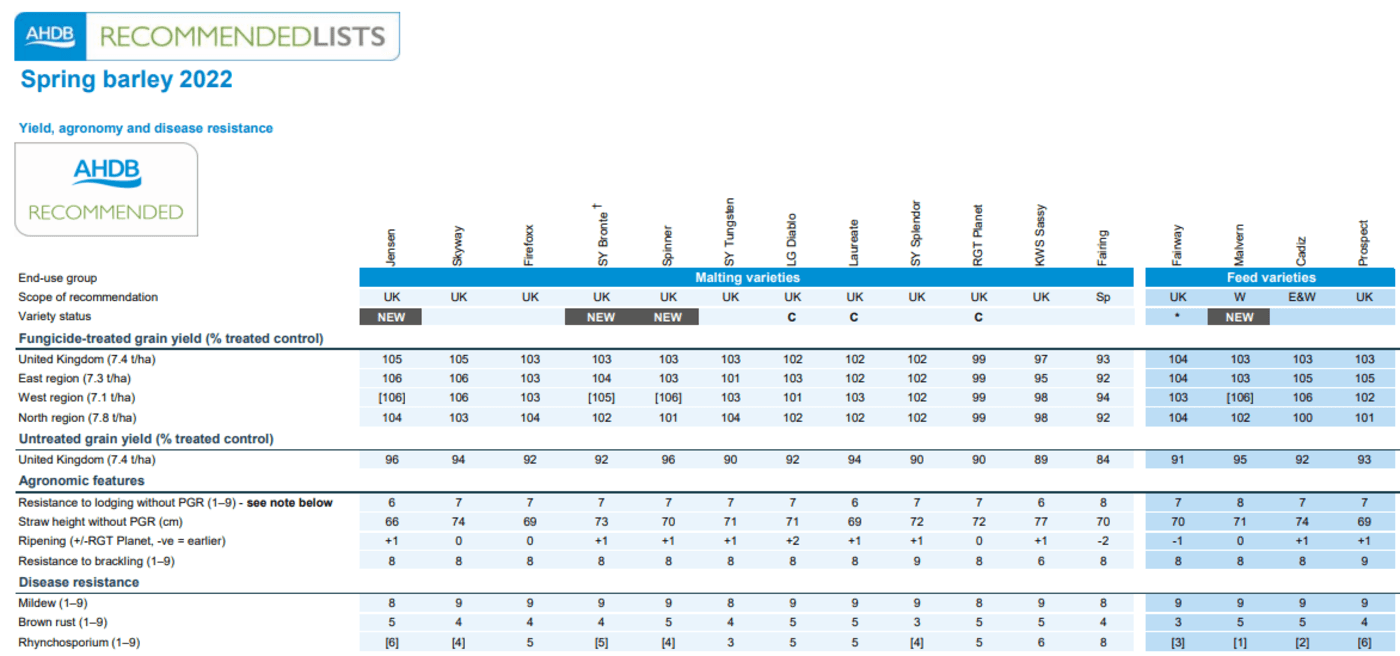 Spring Wheat Varieties:
KWS Cochise:
A group 2 wheat with good grain quality and high yields - accepted by millers.
OWBM resistance.
We have access to other varieties - please call the office to discuss.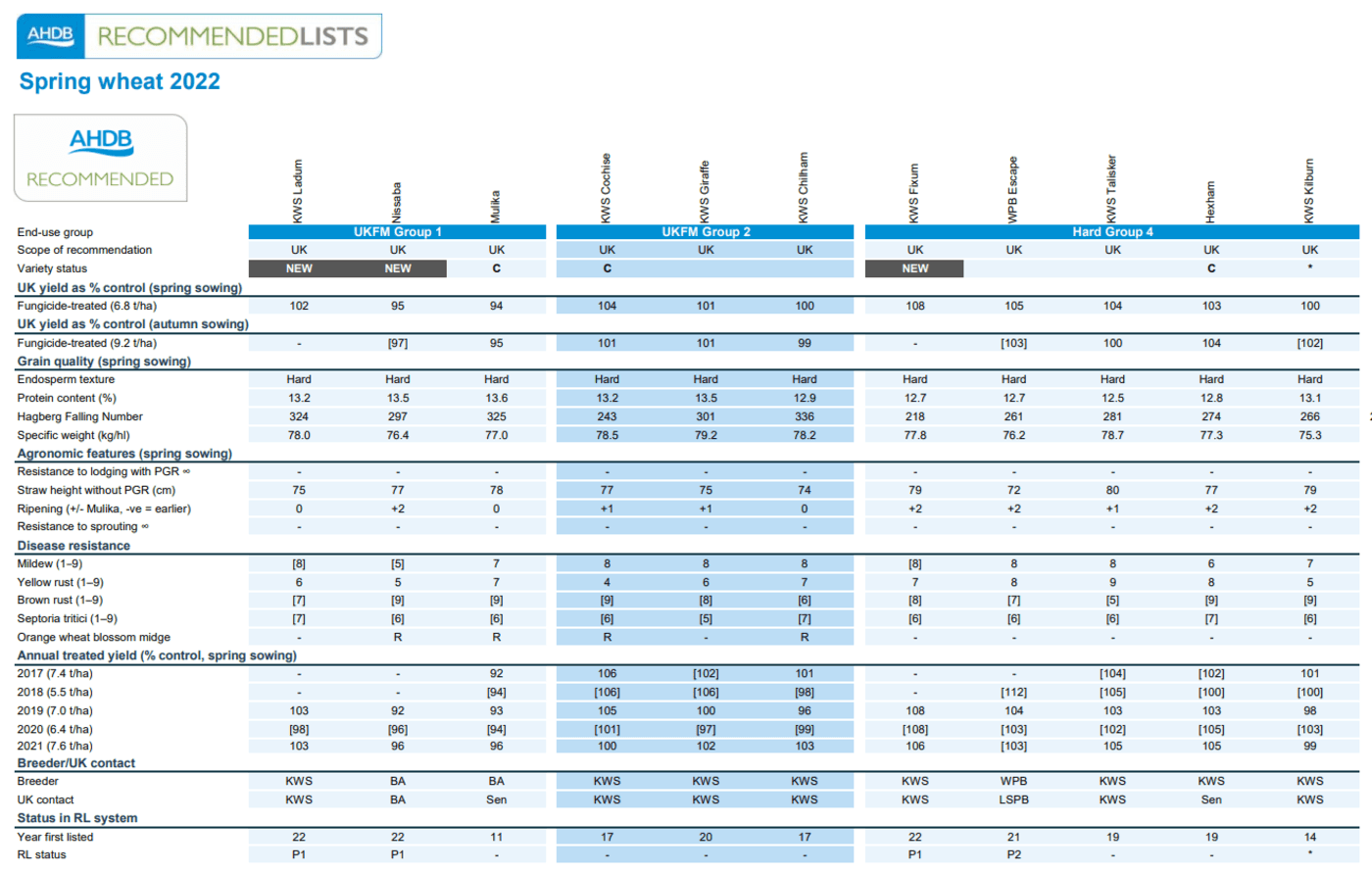 Spring Oats
Canyon
Despite being the oldest spring oat variety on the market, Canyon is still very popular both on farm and with the millers.
Its good specific weight and high kernel content mean it is one of the favoured varieties with the millers, whilst its strong agronomics and early maturity have helped maintain its position in the market.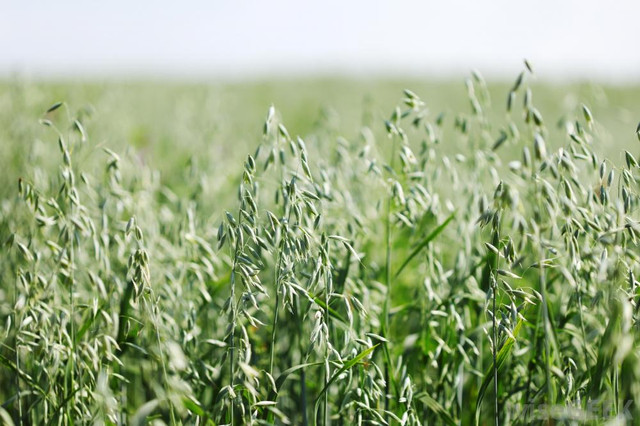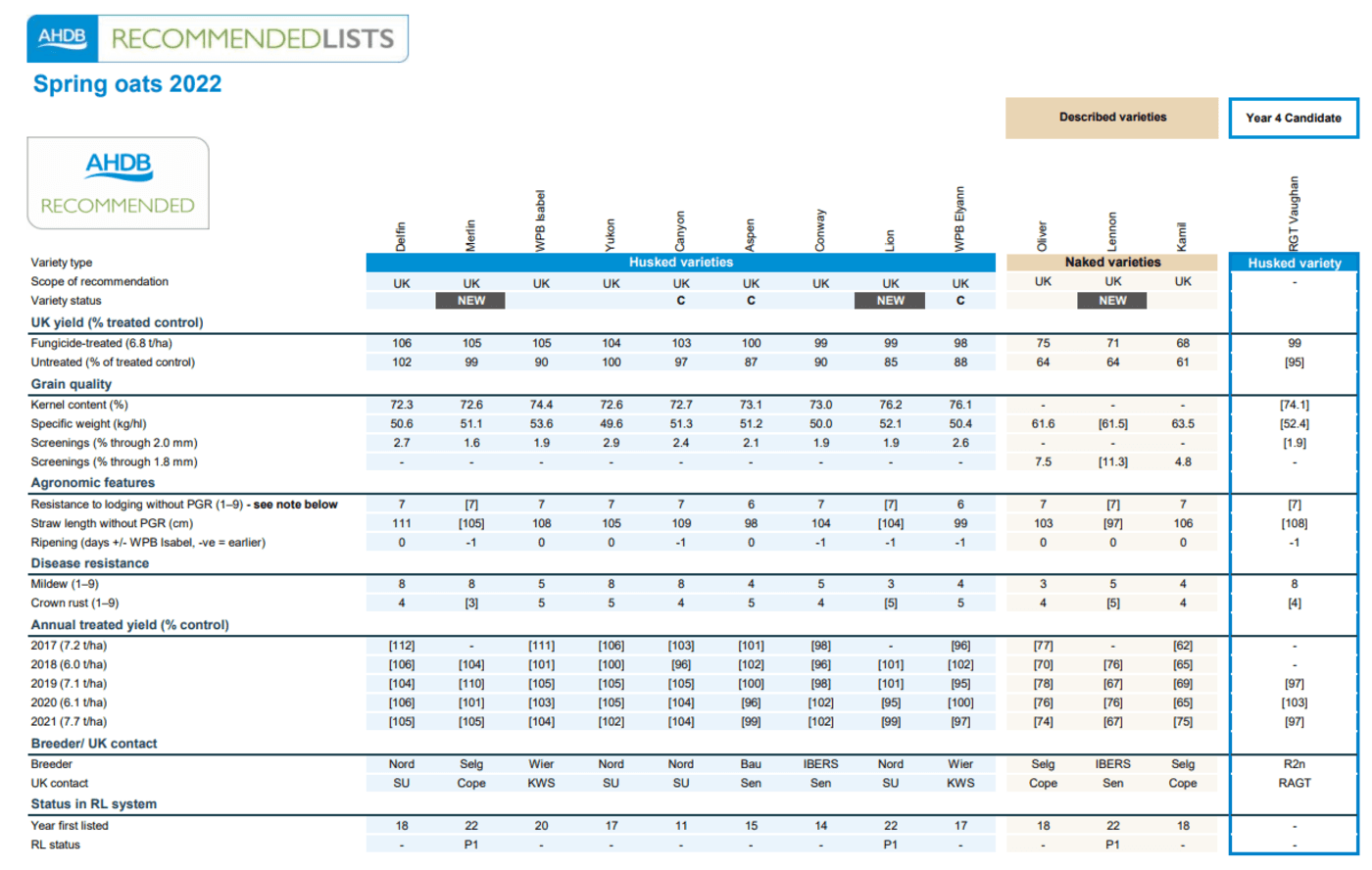 Spring Beans:
Fuego
Fuego remains the most popular spring bean variety due to its on farm reliability and large seed size which makes it suitable for the human consumption grade with good premiums over feed.
It is one of the earliest varieties to mature which is why many growers in our region continue to grow it despite other varieties being higher yielding.

Lynx
Lynx is the highest yielding spring bean variety on the market. It has a strong agronomic package with a Downy Mildew score of 7.

It doesn't have the biggest seed size but often makes the human consumption grade depending on the sample.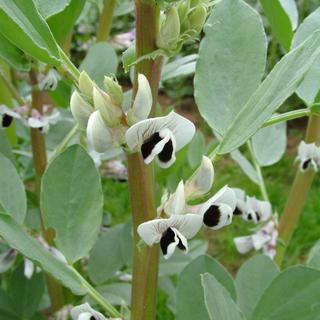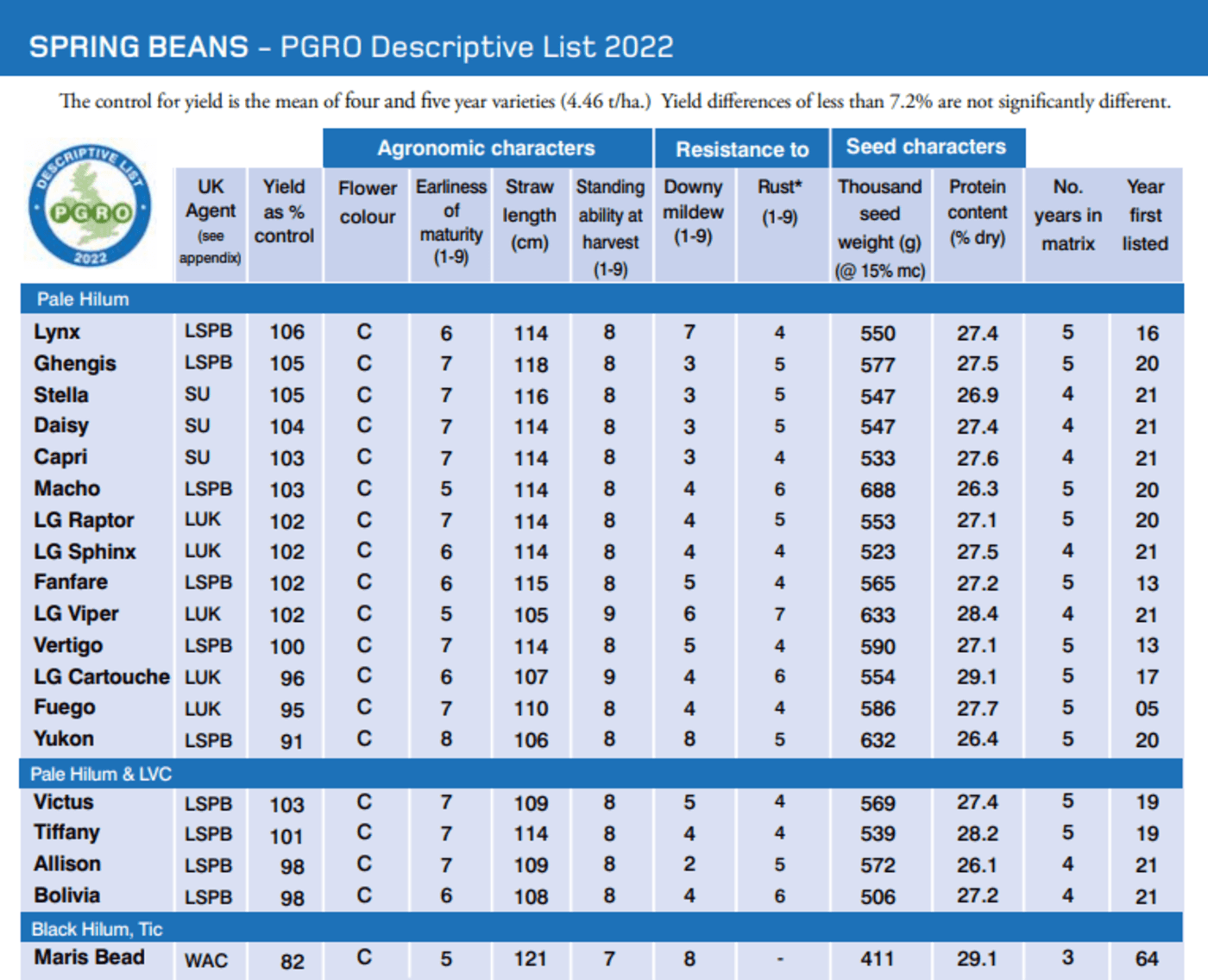 Additional Seed Dressings:

Vibrance Duo
Vibrance Duo is now approved for spring barley - an ideal dressing to boost early root growth and yield.
Approved for:
Spring Barley
Spring Wheat
Spring Oats
Kick Off
Phosphite based seed treatment proven to boost root and shoot development to eliminate early season deficiency, enhance plant emergence and boost yields.

Manganese
Manganese is essential for chlorophyll synthesis and lignin production - vital for early stages in plant growth.
High pH and light soils are prone to deficiency, applying manganese to the seed is a good way to ensure healthy early seedling growth and eliminate early season deficiency.

Zest
A new phosphite based seed treatment approved for pulses. It is similar to that of Kick Off but has Molybdenum in as well to help prevent marsh spot in peas.
Nutrients in Zest:
Nitrogen, Phosphorus, Potassium, Sulphur, Manganese, Zine, Molybdenum.
Game Cover and Environmental Mixes:
We have a range of Maize, Game Cover and Environmental mixtures available for Spring 2021.
Please enquire for details.