Autumn 2021 Seed...
With variety decisions for next season looming as the trials season approaches, please see below our availability for cereal seed this autumn.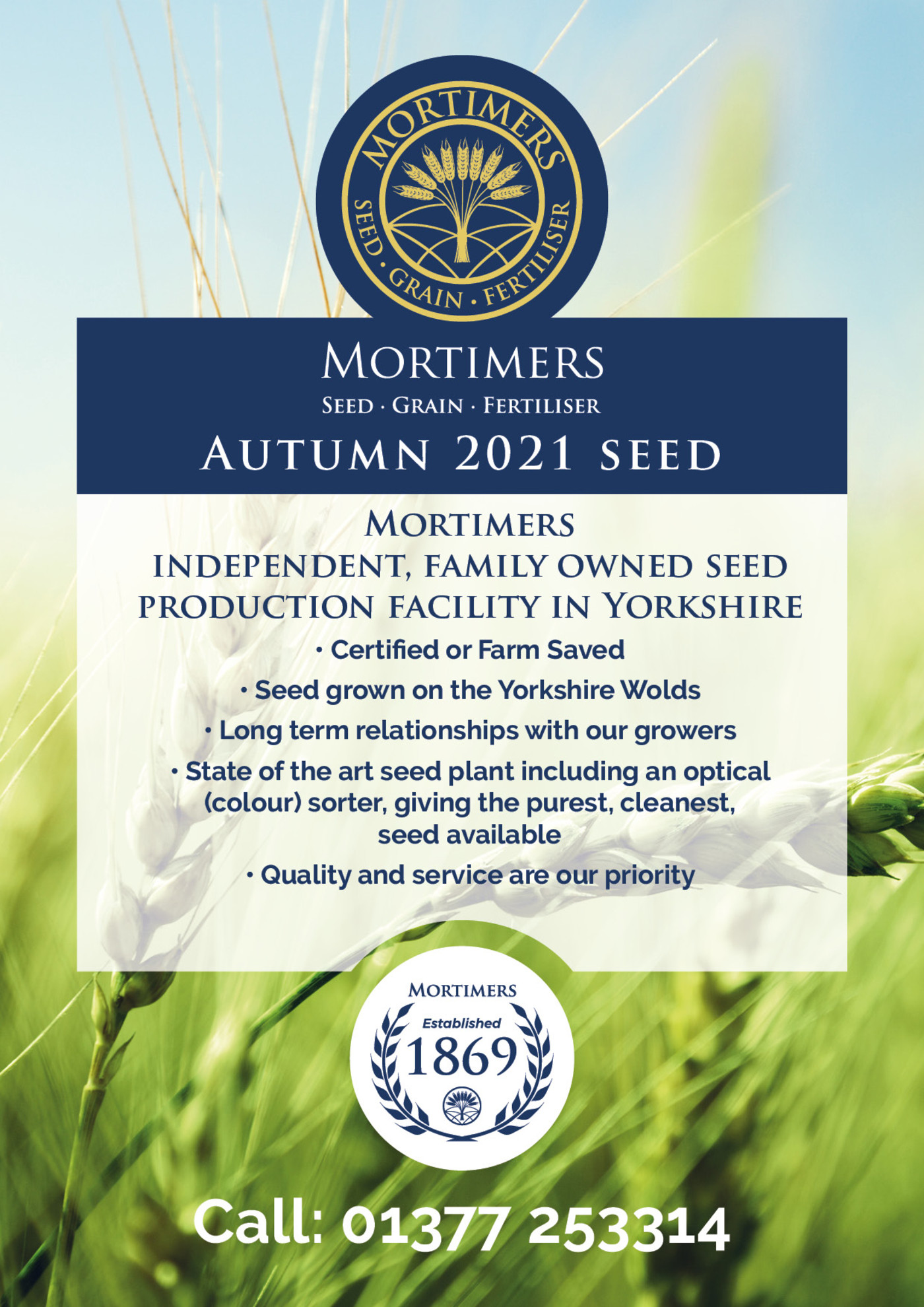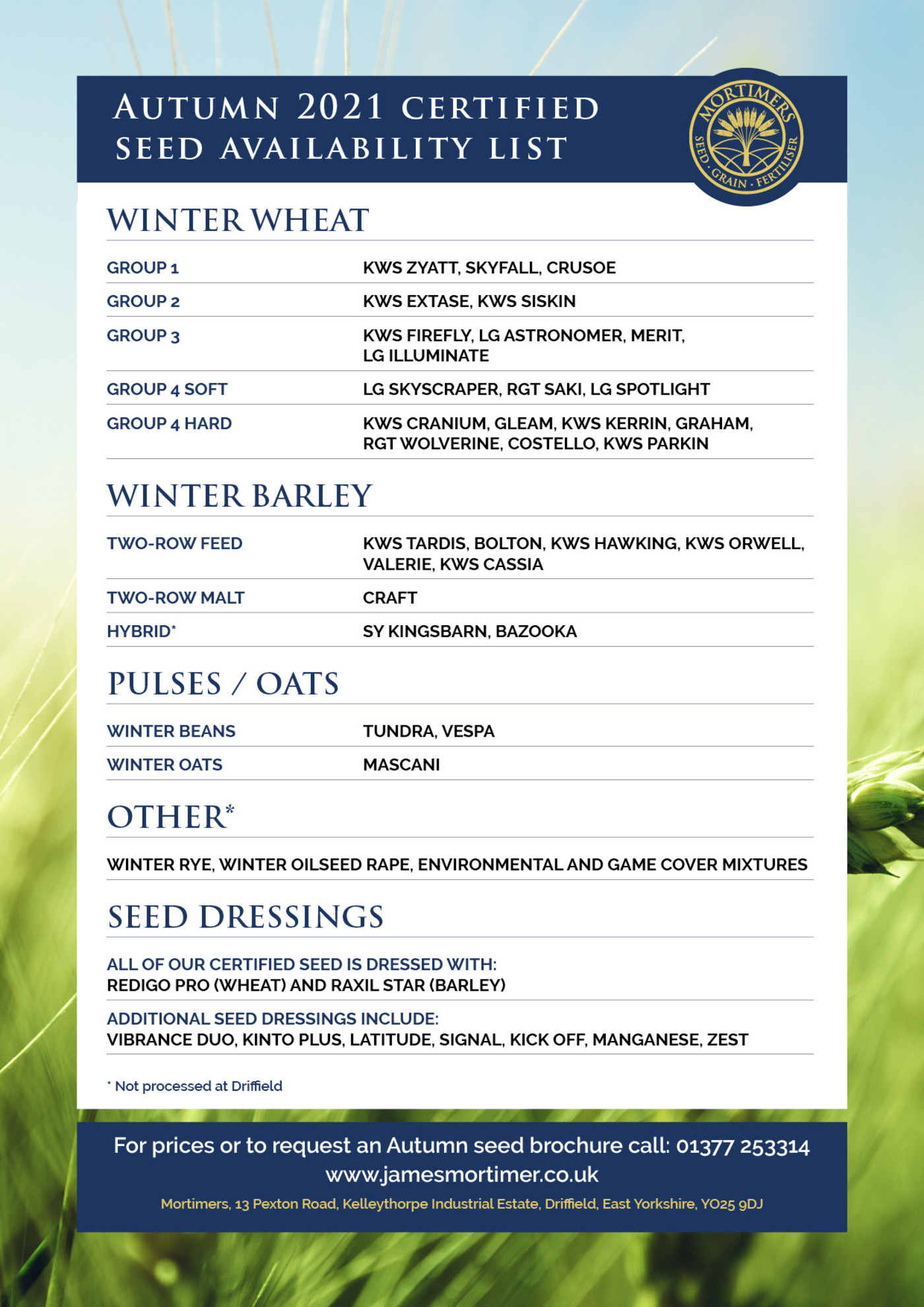 New winter wheat varieties for Autumn 2021...
LG Astronomer - Group 3
A new Group 3 variety from Limagrain
Strong agronomics
Excellent grain quality
High yields
Drill from 15th Sept - Mid Feb
We feel this variety is well worth a try for soft wheat growers this autumn - please ring the office to discuss further.
KWS Cranium - Group 4 Hard
A new hard feed wheat from KWS this autumn
Very high yielding
Good agronomics
Suited to later drilling
Good 2nd wheat performance
A very high yielding feed wheat for growers looking for a good barn filler! It's suitability for later sowing offers growers an ideal drilling slot after later crops such as potatoes or those delaying drilling for grassweed control.
RGT Wolverine - Group 4 Hard
A new hard feed variety from RAGT
The first BYDV resistant winter wheat variety on the market
New genetics available to growers as a tool to help protect against the threat of BYDV after the loss of the seed treatment 'Deter'. Particularly useful for those who drill early.
New Winter Barley varieties for Autumn 2021...
KWS Tardis
New for this autumn, KWS is the highest yielding 2-row feed variety on the market
KWS Tardis combines the grain quality of a 2-row variety with the yield of a hybrid
Good agronomics
KWS Tardis is set to be a popular choice on farm this autumn - a good variety for traditional KWS Orwell growers to try this season as a replacement going forward.
Bolton
New 2-row winter barley from Elsoms seeds.
Very high yielding - 2nd to KWS Tardis on the Recommended List.
Strong disease package and good grain quality
Stiff Straw
For growers looking for a new feed barley this autumn that will yield well and fill the shed, Bolton is one to try!
Hybrid Winter Rye...Rye not?
With oilseed rape becoming a major challenge to grow in many areas after the loss of neonicotinoid seed dressings, farm rotations are under pressure with many growers struggling to find alternative crops that are viable to take its place.
Although it is still another cereal for the rotation, the interest in growing rye for use as grain and in AD plants is growing. It is very drought tolerant and winter hardy as well as having lower input costs relative to winter wheat and barley.
Who wants to buy Winter Rye?
The limiting factor in recent years in growing rye for grain has been market demand. However, interest in Rye for pig rations is growing due to its benefits on gut health and behavioural patterns in pig herds as well as growth in demand for artisan breads, specialist spirits and beers.
Whilst, growing Winter Rye will not suit everybody, it is certainly worth considering for those looking for alternative or additional crops for their farm rotation!
KWS have published a very interesting 'Hybrid Rye Exclusive' which covers the agronomy aspect of growing rye, market demand and on farm case studies.
See the link below to find out more...
Hybrid Winter Rye Varieties...
KWS Serafino
The highest yielding variety on the market
Can be grown for AD and grain markets
Benefits from the PollenPlus gene to protect against ergot.
KWS Tayo
Candidate variety for harvest 2021
High grain and straw yields for pig rations
No.1 harvest index (grains/ear ratio)
Can be grown for both AD and grain markets
Benefits from the PollenPlus gene to protect against ergot
KWS Eterno
High yielding variety
Good disease resistance
Can be grown for both AD and grain markets
SU Performer
Second highest yielding variety on the Recommended List for 2021/22
Suitable for both AD and grain markets
Stiff strawed and good disease profile
Excellent grain quality