Autumn 2019 Seed:
After one of the wettest winters on record, many growers will have bags of seed still sat in the shed awaiting another chance to be drilled this coming autumn.
We thought it would be a good idea to highlight some of the practical issues that growers should address before loading this seed into the drill...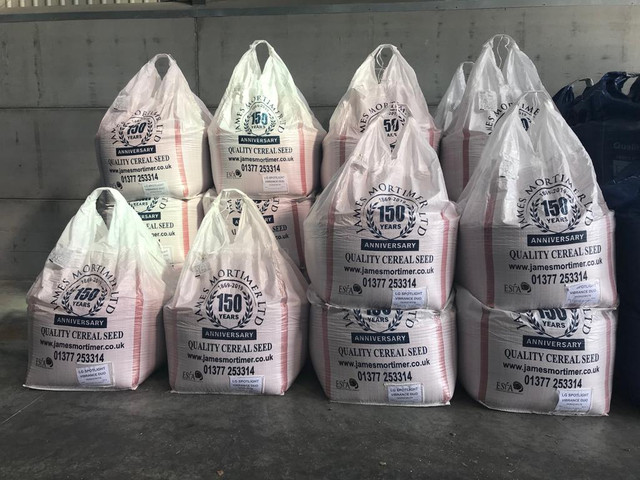 Sampling over-yeared seed:
Any seed from 2019 which has been kept dry and in good conditions will hopefully have retained a decent germination but it will need sampling and an accurate "grow on" test to ascertain the germination.
We recommend you sample any left over seed from several bags - please take care when handling seed and wear a mask, some treatments can make you feel unwell when you are in close proximity to them.

The "Vitascope" test we use on delivery is designed for untreated seed and detects dryer damage only.
We would strongly recommend taking a sample to SGS Laboratories in Driffield (or a similar accredited testing laboratory).

Many people look upon SGS as a small laboratory, conveniently situated in Driffield. You may be very surprised to learn that they employ 94,000 staff, in 2,600 offices and laboratories around the world. They can test a range of species, including barley, wheat, oilseed rape, peas, beans and linseed.
Covid-19 rules around visiting / sending samples will probably apply throughout 2020 so we recommend ringing them to discuss arrangements.

Don't leave it until harvest:
A typical grow on test will take approximately 14 days for cereals as the test involves replicating field conditions (100 seeds been grown on in compost). Not only will you be given an accurate germination result, if the growth is in any way unusual any seed testing lab will add a comment to the result.

We imagine all grain testing labs such as SGS will be inundated with samples from 2019 so it would be an idea to allow plenty of lead time for testing, probably June onwards.
At Mortimers we often talk about the importance of a well screened, bold sample, with accurate loading of seed treatment. We remain convinced that these three factors provide the best start for the seed.

Understanding your germination results:
Once you have ascertained your germination result(s) you can fine tune the seed rate by one of two ways
using the following formula:

Thousand grain weight (TGW): If not printed on the bag you can weigh out 100,200,500 or 1000 seeds (depending on your patience) and weigh the seed in grammes.

Thousand Grain weight x Target seeds/m2 ÷ Actual Germination (%)

Example:
1. 50g (Thousand Grain Weight) x 350 (Target Seeds/m2) = 17,500
2. 17,500 ÷ 90 (% germination) = 194 3. Seed Rate = 194 kgs/ha
If the germination result had been 100% the seed rate would be 175 kgs/ha which shows the importance of knowing the germination of your seed.
Alternatively, if you use a more traditional method of calculation IE stones per acre etc - just be sure to increase the rate by the necessary percentage.

We cannot stress enough the importance of knowing an accurate germination level of the seed you have in the shed.

Summary :
Sample seed carefully and safely - wear gloves and a mask.
Arrange for test - standard sample bag, realistically the lab will be planting 100 seeds only.
Calculate new seed rate given the revised germination test result.
Austral Plus Seed Treatment Update:
You are no longer legally allowed to drill seed with Austral Plus, the last date of use was the end of spring sowing 2020. Austral Plus has been relied on for many years for reducing damage caused by wheat bulb fly and wireworm and controlling seed and soil borne diseases in wheat, barley and oats.

SIGNAL (300g/l Cypermethrin) is now the only seed treatment available for the reduction of wheat bulb fly and wireworm in spring and autumn sown wheat and barley. To find out more about Signal, visit https://www.upl-ltd.com/uk/product-details/signal-300-es.

Both Signal and Austral Plus require careful handling and give off a strong aroma, especially in confined spaces.

We hope you have found this useful, please give us a call if you need any further guidance.

We are putting the finishing touches to our Autumn 2020 seed brochure, hopefully you will find the time to have a good read through when it arrives.

We will be sending further newsletters with our thoughts on variety choices, seed treatment availability for 2020 and the importance of knowing which varieties suit early drilling etc.
Seed Availability for harvest 2020:
We leave you with a statistic regarding the area of seed in the ground to produce certified seed in 2020.
On average, are approximately 36,000 hectares drilled each year, to date only 25,000 hectares have been entered, a number of which never actually got drilled and all at the mercy of current weather patterns. There is no doubt supply will be limited, despite the significant stocks of seed still on farm.
Please contact us to discuss seed for harvest 2020.