A trip down memory lane...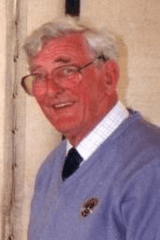 Whilst we all find ourselves in unprecedented times at present with nothing like this seen for generations, Simon has an interesting story about one of Mortimer's past employee's who showed great courage and bravery during WW2...
My wife and I visited Scarborough last weekend and the walk we did brought back memories of one of our past members of staff, Wilf Wise.
A number of you will remember Wilf, the majority of you will never of heard of him. Wilf lived at "Daleside", Esplanade Crescent, Scarborough. We walked past his old house during our visit, I was interested to see the beautiful property was on the market.
Unfortunately the £475,000 asking price was a little out of our reach for what would be an idyllic weekend retreat!

I would like to take this opportunity of sharing Wilf's obituary.
'Wilf Wise. Hero from Great Escape dies bravely as he lived, aged 85. Remarkable wartime service saw downed pilot work for MI6 from prison camp' (Yorkshire Post, Thursday July 18, 2002).

He was an unsung hero of the real life Great Escape, he turned down his chance of freedom to guide allied bombers in to destroy a V2 weapons factory hidden near Stalag Luft 3. Flying officer Wilf Wise, of Esplanade Crescent, Scarborough, hardly ever talked of his wartime, even to his family.

He ended up in Stalag Luft 3, in Sagan, Poland after the Wellington bomber he was piloting was shot down over the Dutch coast on the last operation of his tour. As the sole survivor of the crash, he regained consciousness to find himself in the blazing wreckage and had to crawl along the struts to escape through a crack in the fuselage.
Little did the German guards know that as they chatted at his bedside hospital, that he was listening to every word, ready to pass information back to London. He had been handpicked by British intelligence for undercover work in the event of capture because of his fluent German, which he learned at Malton Grammar school.

His parents in Malton, Headley and Ida Wise, were told that if his letters from the camp did not contain a tick in the corner they were to be forwarded immediately to an address where his MI6 handlers could decode the innocent-sounding phrases. Meanwhile, Mr Wise was involved in building a tunnel beneath the camp latrines into a potato field outside the wire. Months before the mass escape, made famous by the Hollywood film 'The Great Escape', he led a successful breakout.

However, he was spotted days later by a Prussian officer in a passing car. He hid in a hay stack but had to give himself up when the Germans set it alight - and was nearly shot for sabotaging the haystack. But he still had the presence of mind to hide a compass disguised as a belt button in a piece of cheese.

Back in Stalag Luft 3, he was given the job of providing air to those digging the Great Escape tunnels, using a pump consisting of two tins with a homemade canvas bellows in between.
Wilf was given the option of escaping - he elected to continue gathering intelligence.He had found out that there was a V2 factory in the woods near the camp. He included the key phrase which MI6 would recognise and the factory was later bombed. All the prisoners cheered as they saw the planes go over.

After the Great Escape, Mr Wise remained in Stalag Luft 3 until it was liberated by the Russians.
The Red Army were not interested in helping the POW''s get back to their own lines. Mr Wise was given the job of escorting about 200 former prisoners through the sector, which by that time had been partly re-occupied by SS Panzer troops. He was so badly affected by gangrene that he had to wheeled along in a pram.
When he finally arrived at York Station he weighed seven and a half stones and was barely recognisable to his own family.

In peacetime, he settled down to run the family corn and seed merchants, 'Headley Wise & Son'.
Wilf did many good works for the community, a founder member of Malton & Norton Lions club, he set up a service to supply fish and chips to Ryedale pensioners, helped to provide disabled people with work and accommodation, and was involved in talking books for the blind.
Mr Wise was eventually awarded the MBE.

Wilf loved the grain trade and taught me a lot about seed and crop inspection. On my first full day out and about in Ryedale with him, we spent the morning applying Stockholm tar to his young pheasants to stop them pecking each other!!! This was followed by lunch at "The coach and Horses' in Rillington. Not surprisingly, he was calm and not one for stressing over trivial matters!

Wilf loved malting barley and despite been of pensionable age, did all his own sampling in a pair of trainers. He gave Maurice a few extra grey hairs by making his own bids up when he considered his malting samples, "worth buying" whatever the market conditions.

Wilf lost an eye in a farm shooting accident - he never divulged the name of the person who was responsible for the stray shot.

Wilf, like me was a "glass half full man ". This was at variance with a a quote he sometimes came out with.
"Expect the worst, that way you cannot be disappointed ".

I hope you found this interesting. In the uncertain times ahead, it serves as a reminder of the courage of past generations. It is vital we all follow the advice of the professionals regarding Coronavirus. Whatever sacrifices we have to make will be worth it to preserve the health of those close to us.

Keep safe.