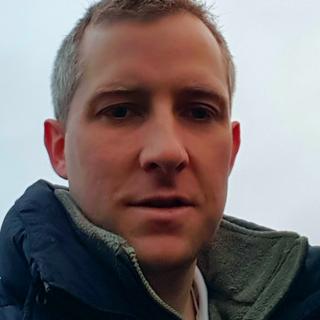 THE MORTIMERS TEAM IS GROWING!
We are delighted to announce that Stuart Rowley will be joining us in July.
Stuart will spend time learning all aspects of our business over the coming years, as he moves from a 20 year career in Telecoms, where he worked up from the shop floor, to his most recent role as Commercial Director for Vodafone's international partnerships business.
This investment in understanding our business and industry will give him a strong foundation for his next 30 years at Mortimers, as we invest and prepare for the long term future of our business.
We know he cannot wait to join and look forward to introducing you to Stuart over the coming months!
Seed Growers
We have a small tonnage of C1 winter wheat seed which remains undrilled. Whilst we appreciate that many areas will have no chance of drilling again anytime soon, if there is anybody on clean land that may have an opportunity to drill and is interested in growing a small area of seed for us please let us know.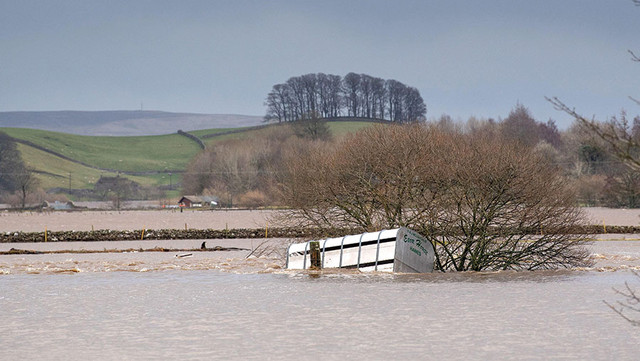 Grain Markets
Old crop prices remain fairly static with the coronavirus and Tuesday's 'bearish' USDA report weighing on markets after it reported world wheat stocks at a record of 288 million tonnes (although 51% of this is in China).
Oilseed Rape is also struggling to find support at present due to a combination of coronavirus, continued political disputes over palm oil between Malaysia and India and talks of a large South American soybean crop.
With storm Ciara last week and Dennis set to hit our shores this weekend, the window for anymore winter wheat going in the ground is fast disappearing. The UK 2020 wheat harvest is set to be less than 10 million tonnes aswell as a shortage of EU rapeseed, new crop prices remain firm which, understandably, is keeping many sellers from participating in the old crop markets at present.

May 2020 LIFFE wheat futures = £152.45/t
Nov 2020 LIFFE wheat futures = £161.60/t

1 GBP = 1.1928 Euro
1 GBP = 1.2978 US Dollar
Fertiliser
Fertiliser prices have come down since the new year and are likely to have reached the lowest they will go this season now demand has picked up and blenders are busy.
We are agents for both Yara and CF and have access to all of their products.
We also offer a range of quality imported compounds and blends.
For any customers on liquid fertiliser, we are agents for Omex.
Please enquire for prices.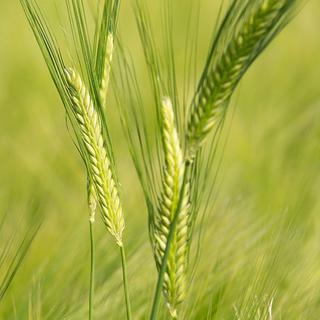 Malting Barley Nitrogen Applications
With a large area of spring barley likely to be drilled this spring, maltsters are going to have a lot of tonnage to choose from for harvest 2020.
For anyone already committed to a malting contract and for those hoping to sell for malting on the open market, careful nitrogen management is important for keeping grain nitrogens as low as possible to meet market specification.
We encourage growers to talk with their agronomists and take into account any residual soil nitrogen available for plant uptake, particularly on land which recieves regular manure applications.
Splitting nitrogen applications by applying the bulk of nitrogen required early season around GS25, to encourage tillering, and a final application before the end of stem extension to encourage yield, will help grain nitrogens at harvest.
Spring Barley Seed
We still have the following spring barley varieties available:
Laureate
LG Diablo
KWS Irina
RGT Planet
Concerto
Please contact the office for both certified and farm saved spring seed prices.
Spring Seed Dressing Options
With no sign of the wet weather disappearing anytime soon, Manganese and Kick Off seed dressings are worth investing in to get your spring crops off to the best possible start in these challenging conditions.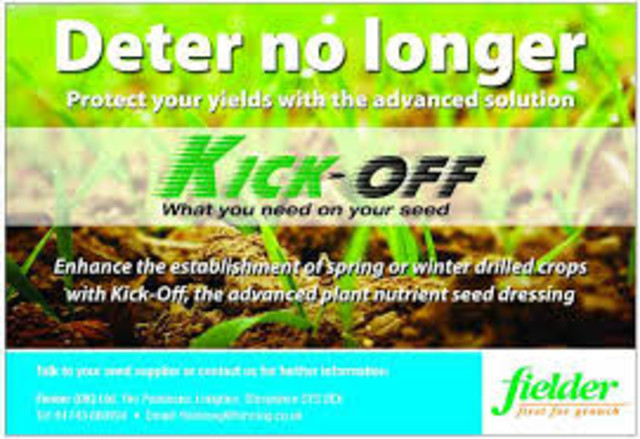 Kick Off
Kick Off is a phosphate/phosphite based seed treatment which promotes both root and shoot development to aid plant emergence and establishment.
As well as seedbed conditions, soil pH has a big impact on nutrient availability. The Yorkshire Wolds are renowned for their calcareous, chalky soils and naturally have a high soil pH. Subsequently, nutrients such as phosphate,manganese, copper and zinc are easily locked up from plant available forms, even if soil analysis results show adequate indices.
Applying these nutrients to your seed helps to eliminate early season deficiency, enhance plant emergence and build yield potential.
Kick Off Seed Treatment Analysis:
180g/l - Phosphate/Phosphite
80g/l - Manganese
16g/l - Zinc
20g/l - Nitrogen
40g/l - Potassium
Early season nutrient roles within plants:
Phosphate - Key for root and shoot development.
Manganese - Essential for chlorophyll synthesis and lignin production.
Copper - Lignin synthesis and plant respiration.
Zinc - responsible for the utilisation of auxins which regulate plant growth and helps with disease tolerance.
Where do nutritional seed dressings help?
Where soil or leaf analysis has shown deficiency
High soil pH
Soils with high organic matter/receive regular manure applications
Sandy Soils
Cold/Wet Soils
To discuss appropriate seed dressings for your spring seed, please contact the office.