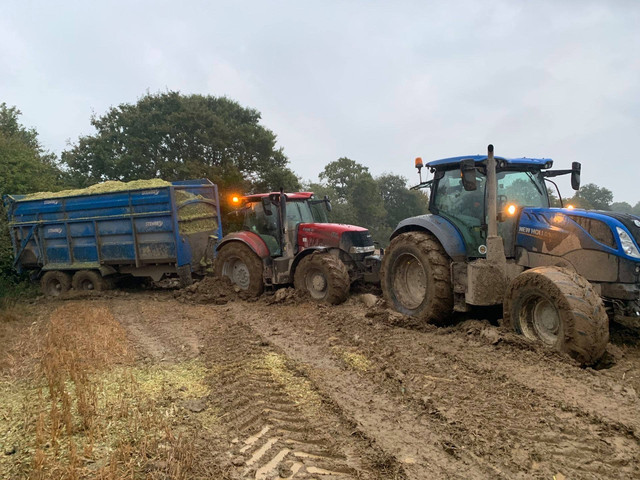 With the continued wet weather and an extremely challenging autumn with no respite forecast in the coming days, many growers (and us as seed merchants) are finding themselves in a very difficult situation and wondering what the best options are going forward into spring 2020.

The spring seed availability is now extremely tight with spring wheat nearly sold out very little spring bean seed left within the industry.

Is there still hope for winter wheat?
Whilst many will not have any chance of getting winter wheat in the ground now with soils at or above field capacity, for those on more forgiving soils the chance to get some winter wheat in may not be completely lost.
Whilst there is a need for a period of vernalisation, most winter varieties can be drilled up to the end of January and varieties such as Skyfall and KWS Zyatt can be drilled into February without any problem.
A local farmer drilled some KWS Extase in April this year on part of a field after potatoes he couldn't get onto last autumn, and although it was 3 weeks later to harvest than the rest of the field, he believes it yielded better than any spring wheat would have done. Whilst we are not advocating people to drill winter wheat into April, for those that may get chance to travel between now and February, winter wheat is still an option and likely to perform better than spring wheat.
Nonetheless, spring wheat does offer a spring alternative but the downfalls are that some varieties can be late to mature, variable in bushel weights and susceptible to Ergot.
Please feel free to ring the office to discuss spring wheat varieties or winter wheat varieties that are suitable for drilling into the New Year. We still have some floor stock available and various varieties re-cleaned that can be dressed accordingly.

Autumn 2020 seed
Looking at seed availability for next year from our perspective, with many seed crops late drilled across the country and some that may not get drilled at all, we are going to be over-yearing some of this years seed on farm.
We will look to dress this early July 2020 to ensure there is seed available in good time if seed crops are late to harvest. We are in the process of contacting our growers to establish how many of our seed crops have been drilled.
Spring wheat varieties
We still have some KWS Chilham available which is a Group 2 spring wheat. It offers a good disease package and a good Hagberg and specific weight. Please enquire with the office for more details.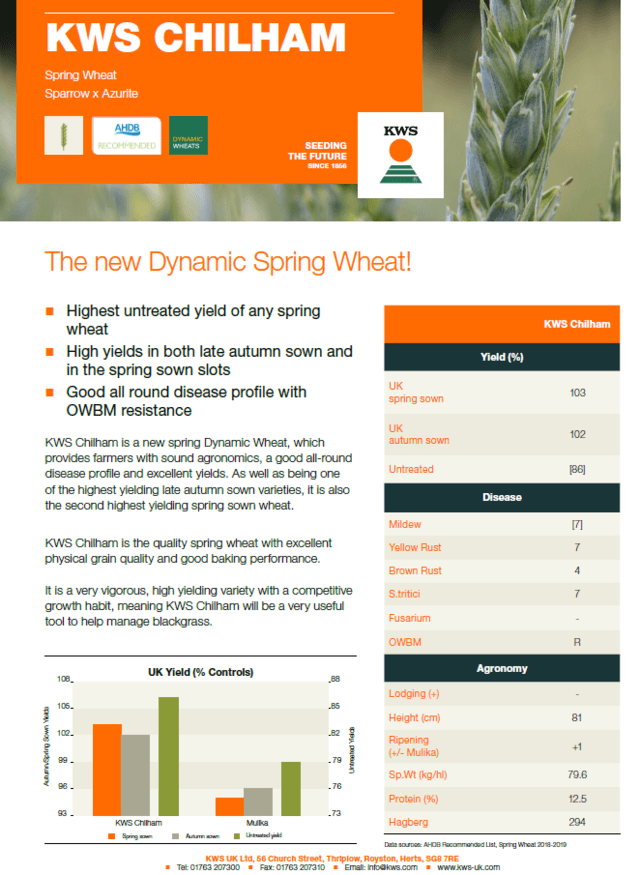 Spring Barley varieties
We still have various feed and malting spring varieties available. The preferred malting varieties by the maltsters are Laureate, LG Diablo, Concerto and Planet. From our point of view, Planet is a good yielding variety, but has a reduced demand by UK maltsters when it comes to marketing in comparison to Laureate, LG Diablo and Concerto.

Spring Barley varieties available are:
Laureate
LG Diablo
Concerto
RGT Planet
Farm Saved Spring Barley Seed
A number of growers have already committed to what is a substantial tonnage of farm saved barley.
We cannot stress the importance of having your own seed tested for germination and vigour before dressing in the spring - the germination can drop significantly after being sat in a shed over winter. We can send samples off to be tested for germination and an indication of vigour.

Spring Barley variety choice
We recommend growing the likes of Laureate, LG Diablo, Concerto and RGT Planet even for feed as they perform just aswell, if not better than the varieties bred specifically for feed and it gives growers the option of selling the grain for malt if it meets the specification.

Seed Dressing Options
Seed dressings such as Kick Off (a phosphite based treatment) and Manganese are worth considering for spring barley seed to help crops get through the ground and establish as quickly as possible.

Please see the list of recommended spring barley varieties below - the new AHDB recommended list will be out in the next couple of weeks.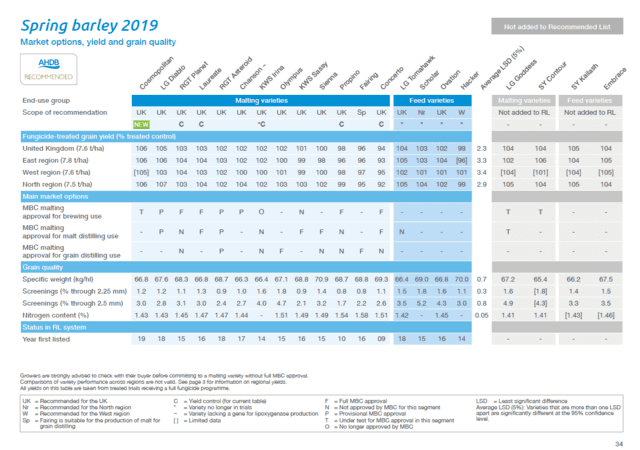 Spring Bean Seed
Certified spring bean seed is in extremely short supply nationally.
Having your own beans dressed is a good option for spring bean seed this year. We recommend having them tested for Germination, Ascochyta and Bean Stem Nematode before dressing. We can get samples tested for anyone wanting to farm save their beans.

Important BSPB rules regarding Farm Saved Seed
Farmers are legally obliged to declare their use of farm-saved seed, and to pay for the use of eligible varieties.
FSS must be produced and saved within a farmer's own business (i.e. land farmed as the same business).
Farmers cannot sell, buy, barter or otherwise transfer FSS outside their own holding.
FSS rules apply whether seed has been processed or taken straight from the barn.
Seed from hybrid varieties may not be farm-saved without the breeders' permission.
For more information, please click below - https://returns.bspb.co.uk/Home/ExplanatoryNotes
Farm Saved Seed Royalty Rates