General
A much needed improvement in weather this week is finally allowing some to get back on with lifting potatoes and drilling, all-be-it tender with a few combination drills pulled out the back of the shed! As we approach the end of October, we are recommending growers to up their winter wheat seed rates towards 400 seeds/m2 as seedbeds become more challenging. We are still busy delivering top-up seed orders and have various varieties on the floor - please enquire if you need any extra seed over the next week or so.
Wheat and Barley
Brexit developments and set backs continue to be the main driver of the UK market direction as currency fluctuates one way or another. A strengthening of sterling over the last week has pressured grain prices.
Nov 19 LIFFE futures = £136.40
Nov 20 LIFFE futures = £148.50

1 GBP = 1.156 Euro
1 GBP = 1.2873 US Dollar

US CBOT wheat futures are currently at a 3-month high due to the maize crop concerns with the US maize crop 17% behind the 2014-2018 average.
Dry weather concerns in the Southern Hemisphere for both Australian cereal crops and South American Soybean plantings are contributing to a largely bullish global market for both wheat and maize.
Frustratingly, these global factors are not being reflected in the UK market due to currency and a surplus of both wheat and barley above domestic demand after the large 2019 harvest, combined with the with unknowns of export destinations and tariffs after the 31st October.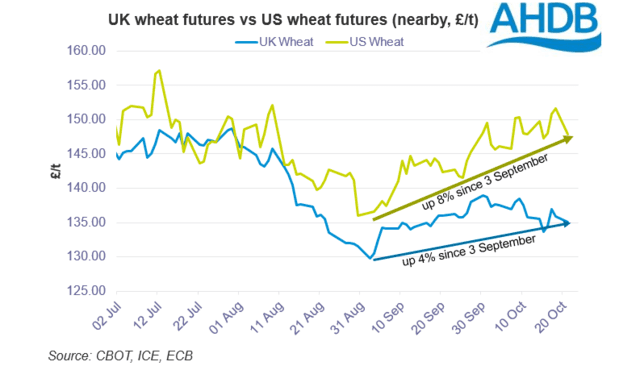 OSR
Currency has hit the oilseed market from all angles over the last week with domestic OSR prices falling by £17.50/t during October.
Again, Brexit developments have resulted in a strengthening of sterling by over 4% since 4th October, as well as the Euro gaining ground against the US dollar.
Despite currency being the main factor influencing the rapeseed market at present, dryness in the Southern Hemisphere and a poor EU oilseed supply do suggest a more bullish oilseed market in the long term.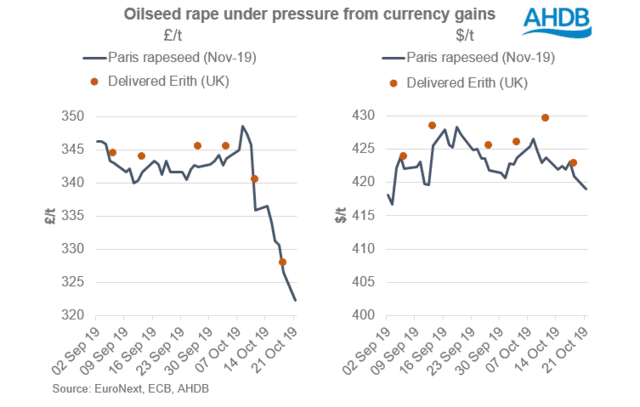 Seed
As we get later into the drilling season, we are seeing many customers increasing seed rates for seed that hasn't yet been drilled.

Floor Stock

Barley
Surge - 625 Kgs
KWS Cassia - 165 Kgs
KWS Gimlet

Wheat
Skyfall
KWS Zyatt
KWS Siskin
KWS Extase
LG Skyscraper
LG Spotlight
KWS Jackal
Gleam
KWS Kerrin
Gator
Gravity
Graham
Costello
Grafton
Shabras

Re-cleaned wheat stock (can be dressed to order):
KWS Zyatt
Crusoe
Cordiale
KWS Extase
LG Skyscraper
Gleam

The value of the new seed dressing Vibrance Duo, as we get later into drilling window is well worth considering to aid establishment and rooting. Please contact the office for further details.