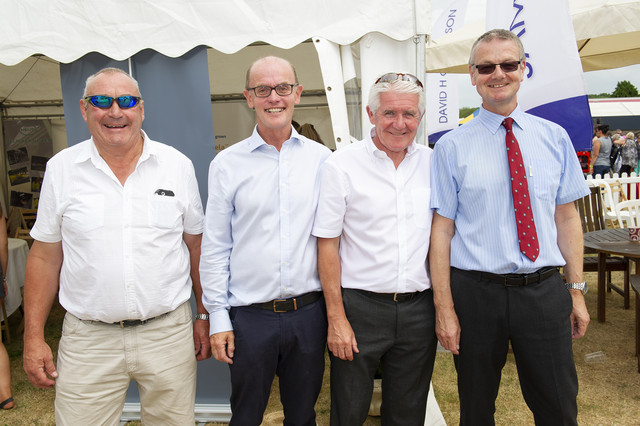 General
We start todays Newsletter with the news that today marks Phil Naylors last day at Mortimers.
Phil joined us on 3rd February, 1997 after previous posts working on farm, Cherrys of North Frodingham and J. Wood & Sons of Driffield.
Phil quickly became part of the furniture at Mortimers, having the great advantage of knowing many of our customers, and indeed adding a number of new accounts.
We have always enjoyed our involvement in the seed trade and Phil has been at the centre of our expansion.
His exceptional organisational skills enabled us to produce a respectable tonnage of quality seed at our old site.
Our move to Kelleythorpe almost five years ago has seen our seed sales grow year-on-year.
We owe Phil and Chris Johnson who joined us just short of 3 years ago a big thank you for all their efforts at Kelleythorpe.
We also appreciate all the hard work Richard Atkin (Chris's younger brother) puts in on a seasonal basis.
Phil has an unbelievable knowledge of the local area, people and places and we will miss been able to ask him to pinpoint farm locations, and all other sorts of things most of our generation forget all too easily.
Phil has many interests outside of Mortimers. He has become a Grandpa in the last few years and has a great love of the outdoors which involves rearing game and running a local shoot, not forgetting his flair for gun dog training.
For many years Phil has been a keen quiz goer. The long established team of which Phil is an integral member are very successful. Phil also sets a number of quizzes for other people hosting local quizzes.
It is our intention to mark Phil's retirement officially in a few weeks time and we will organise a few nibbles and drinks to give you chance to wish him well.
From all at Mortimers, a very big thank you to Phil for all his hard work and input over the last 22 years.
We wish Phil, Jenny and family the best of health and happiness in the years ahead.
Looking to the future, Chris Johnson and Mark Denley will work together in the day to day running of the seed plant - some of you will know Mark from his time working from Bradshaws office for Clugston distribution.

We are constantly learning and trying to improve the service we provide - Autumn 2019 continues to challenge us all.
A later start to the seed season, too many varieties and many delayed decisions on ordering have pressurised seed plants throughout the UK.
Our challenge is to increase throughput without compromising service, and we will do everything possible to achieve this in the years ahead.
Wheat and Barley
Both wheat and barley markets have been supported over the last 2 weeks thanks to a weakening of sterling against both the Euro and the US dollar as well as weather concerns in various places across the globe.
Nov 19 LIFFE futures = £137.50/t
Nov 20 LIFFE futures = £147.45

1 GBP = 1.1092 Euro
1 GBP = 1.2234 USD
Heavy snowfall and blizzards forecast in parts of the Northern US plains and Canada are impacting maize development and harvest which in turn has supported the wheat market. Only 58% of the US maize crop has reached maturity with development now the second slowest on record and 85% behind average. Nationally, the US maize harvest is 15% complete and states such as Illinois are 33% behind average which has the potential to support markets further.
In contrast, much of the Southern Hemisphere remains worryingly dry which is impacting the development of wheat, maize and oilseed crops and therefore lowering the 2019/20 global grain surplus and adding support to markets.
A lack of clarity surrounding Brexit and the likelihood of any deal being on the horizon is a major challenge to the UK at present. Despite some support to the global markets, the impact this is having on our shores is limited due to the plentiful supply of wheat and barley in the UK, combined with the uncertainty of export trade after 31st October. With the largest UK barley crop in 30 years, reduced domestic demand and an estimated exportable surplus of over 2MT of both wheat and barley, the big question is where is all this grain going to go?
The French maize crop yields continue to be downgraded to around 12.5MT, which is 7% lower than last year and the condition of Russian winter cereals is said to be below average due to delayed planting and poor seedbed conditions. Weather conditions across the globe in the coming weeks as well as any Brexit developments will be the major focus of the grain markets.
UK exports have been at record pace so far this season in light of the looming 31st October Brexit deadline:

Wheat Exports:
105KT - largest monthly volume since November 2016.
Jul-Aug 2019/20 total: 151KT vs 50KT last year - largest since 2016/17.
Barley Exports:
257KT - largest monthly volume since March 2016.
Jul-Aug 2019/20 total: 330KT vs 92KT last year - largest since 1997/98.
Maize Imports:
Maize imports - 165KT.
Jul-Aug 2019/20 total: 438KT vs 287KT last year - largest in at least 25 years.
2020 malting barley contracts
OSR
The oilseed market had remained fairly steady until this morning with a continued tight global oilseed supply - the EU is set to see record imports to cover shortfalls.
The Euro has strengthened this morning the back of 'more-promising' Brexit talks, which in turn has impacted the rapeseed market quite dramatically. As ever, currency remains a main driver for market direction.
The US soybean stock levels continue to be lowered after delayed planting due to the wet weather.
Dry conditions persist in South America, with only 6.7% of the Brazilian soybean crop in the ground compared to 12% last season.
Questions remain over Canadian and Australian oilseed production due to the continued dry conditions.
The US and China trade talks continue with the trade awaiting news of any developments between the 2 nations. China is reported to be buying soybeans from the US but tonnages remain below average.
Beans
We are buying both feed and human consumption spring and winter beans - please let us know if you still have some to sample.
Seed
Please enquire for any top-up seed orders. We have a good selection of varieties still available.